Computer Repair Service
Is your computer fairly new but just not performing the way you would like? Or did a component break or go out, leaving you with a computer PC that just isn't performing like it should? Are you looking for affordable and honest computer repair and upgrade services? Then you're in the right spot! We don't just recover data we fix business computers and home PC's too!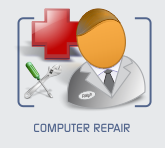 When a computer is not performing at it's best it becomes irritating, but when a computer or PC stops working your life and business can come to a quick halt, not only costing you time but money as well. We use, love and understand computers and PC's, so if you are having issues with your computer or PC, let the pro's here at Chandler Data Professionals diagnose and repair your broken computer. We will not only give you a FREE estimate but we will always communicate any repair cost to you for approval, we will never spend your money without you knowing it.
We can do a clean install or an upgrade of your Microsoft Windows operating system and then install or reinstall all your applications and data. We can install any version of Microsoft Windows and have your system running at peak performance. Windows won't boot-up, or your system crashed causing major problems or corrupting your system files or drivers, not a problem we can fix that too. We can install Microsoft Windows 2000, Windows XP Home and Pro, Windows Vista, Ultimate Edition, Home Premium Edition, Business Edition, Enterprise Edition, Basic Home Edition or any other version. We'll also update your operating systems with the latest security patches and service packs released by Microsoft.

We can take care of installing software titles such as: Microsoft Office XP, 2000, 2007 (or any other edition), QuickBooks, Microsoft Accounting, Adobe Photoshop, Corel Draw, Adobe illustrator and many other software titles, and we can even apply the latest updates, patches, or upgrades. We are your "Home & Small Business Computer Specialist's" and we are here to help you keep your computer or PC running in top condition.
Comprehensive Business & Home Computer Repair Services:
Broken or Bad Computer Components:
Computer Repair Service of Hard Drive
Computer Repair Service of CD or DVD Drives
Computer Repair Service of Video Cards
Computer Repair Service of Sound Cards
Computer Repair Service of Motherboards
Computer Repair Service of Power Supplies
Computer Repair Service of Memory / RAM
Computer Repair Service of Network Cards
Computer Repair Service of Monitors
Computer Repair Service of Keyboards / Mice
Computer Repair Service of Computer Fans
Computer Repair Service of Other Add-In Cards
Computer Repair Service of Electrical Connectors
Plus Many Other Computer Repairs
Repair of Software, Registry or Drivers:
Hardware Driver Updates
Performance Improvements, Tweaks & Tune-ups
Registry Cleanup for Faster Boot-up Times
Registry De-Fragmentation
Adware, Malware, Pop-ups & Spyware Removal
Virus, Worm Removal, Malware, and Trojan Removal
Hard Drive De-Fragmentation for Better Performance
Clean out all the Junk Files that accumulate over time
Uninstall Programs that Cause Poor Performance
Clean Up Dust, Dirt, Grime Build-Up in Computer
Update Windows with the latest Security Patches
Update Your Anti-Virus, Anti-Spyware Programs
Install or Update Your Firewall
Plus Many Other Settings & Inspections & Tweaks
There are many things that can make a Computer Sluggish, Slow, Crash, or Lock-Up, this in-turn can cause other issues such as Data Loss or Corruption possibly leading to even more expenses.
Let our experienced and knowledgeable technician's give you a personalized Computer Repair Service experience, which you just won't find anywhere else. Remember if you can't come to us, we will come to you!
Call Us Today For A 

FREE

 Consultation!
480-299-3111